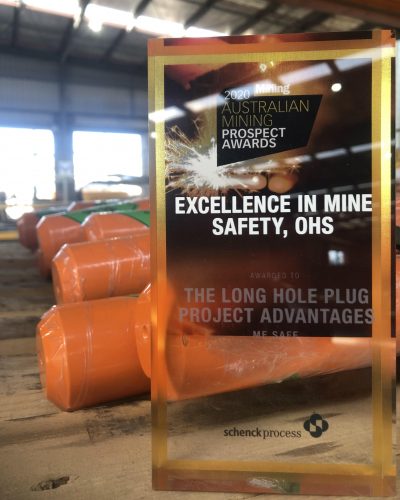 ME SAFE has won the Australian Mining Prospect Awards' Schenck Process Excellence in Mine Safety, Occupational Health and Safety (OH&S) title in 2020.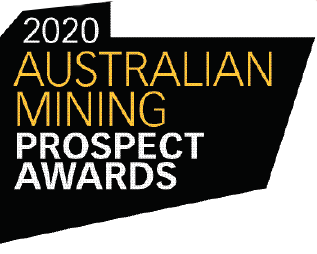 The below article appeared in the December issue of Australian Mining Magazine. It is reproduced here with permission.
ME SAFE

solution safely & efficiently blocks holes

containing lost drill rods
Lost drill rods are a common problem in the underground mining industry. however, it is uncommon to find a solution that does not require demobilisation of the production drill or interrupt operations. ME Safe has found a solution.
Lost drill rods, or bogged rods get stuck in drill holes and have the potential to fall out without warning, posing a serious safety threat to the employees and equipment working below. Current industry practices to alleviate the hazard are either to grout the hole to lock the bogged rods in place or to plate over the hole with a rock bolt, which require production drills to be shut down, operations halted and workers and equipment moved away to fix the problem. Both methods are expensive and time consuming, consequences that were not wasted on ME SAFE. To remove the hazard without wasting valuable production time and capital, ME SAFE developed the long hole plug (LHP) to safely secure lost rods from drill holes. In finding a solution to this common mining industry issue, ME SAFE has won the Australian Mining Prospect Awards' Schenck Process Excellence in Mine Safety, Occupational Health and Safety (OH&S) title in 2020.
"The LHP, when struck by falling drill rods, behaves similarly to an expansion shell anchor, transferring the axial forces from the falling drill rods horizontally into the rock mass," ME SAFE general manager Sam Thomas tells Australian Mining. "It is installed using standard production drills, allowing work to safely continue with little interruption." The LHP is a far safer solution than grouting a hole, as it removes employees from the line of fire below the hole, while when pumping the grout, they would be required to work around the bottom of the hole. If the heavy drill rods fall out without warning this can have catastrophic consequences.
"The LHP removes this personnel exposure as the plug is inserted into the hole remotely with the production drill, thus removing personnel from the line of fire," Thomas explains. "It is common for these holes to contain hundreds of kilograms of drill rods which have the potential to fall out of the hole at any time without warning." Thomas says the other conventional method of plating over bogged rods with a rock bolt is also ineffective, as it provides a false sense of security
"There have been several incidents in the underground mining industry where this solution has failed, resulting in lost drill rods falling from a hole without warning," he says. "The LHP is able to replace this industry practice by providing an engineered solution to a common industry hazard." Since ME SAFE launched the LHP in 2017, it has been used to remove lost drill rods from around 60 mines in Australia, the United States, Canada and Indonesia. "This is due to its increased safety benefits and time and cost savings when compared to the current industry practices," Thomas says. ME SAFE pipped fellow finalists BHP, Austar Coal Mine and New Hope Group to win the Schenck Process Excellence in Mine Safety, OH&S category in 2020. BHP was nominated for eliminating live work with Dash Maintainer Tools, Austar for its coal burst management system and New Hope for its Fit for Change program following the closure of the Jeebropilly mine. Australasian Institute of Mining and Metallurgy chief executive Stephen Durkin, a judge of this year's Prospect Awards, says ME SAFE addressed a specific and dangerous industry problem with a clever and cost-effective solution.
"This sort of creative problem solving is the backbone of our industry and its continued growth and improvement," Durkin says. "As well as improved safety outcomes, the significant cost savings provided by the solution show the clear benefits for the industry." Max Wijasuriya, the managing director for Australia at Schenck Process, sponsor of the Excellence in Mine Safety, OH&S category, says making sure all mine workers get home safely to their loved ones in the same state that they left in is a daily focus for the industry. "Our people work in some of the harshest and most demanding environments that industry has to offer," Wijasuriya says. "Sponsoring the Excellence in Mine Safety category is our way to recognise and celebrate the hard work and leadership that gives the Australian mining industry its reputation of being a leader in safety."